Skills For Sustainable Living
Age
17 to 25 years
Who they are
Youth from slums
Youth from marginalised community in rural areas
Substance abuses
Alcoholic and drug addicts
Youth in general
Refuges
HIV affected-infected youth
Tribal youth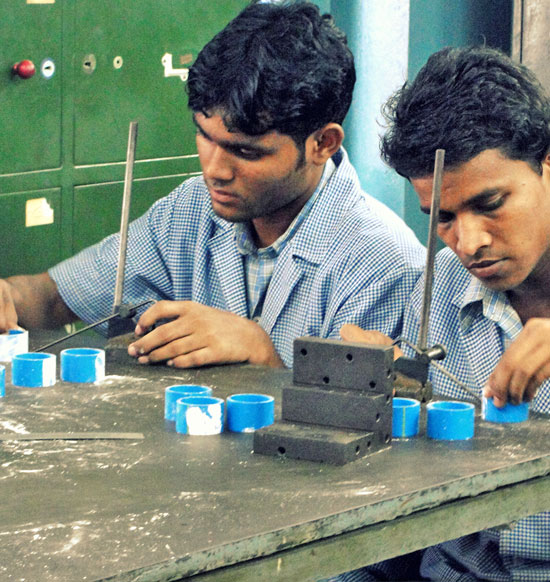 Services offered
1. Community Colleges

In the community colleges the Youth are given education and training to get them an employment. The needs of the society/community is taken into consideration to decide on what courses to be conducted in the community college. This would facilitate their immediate employment after the training.

2. Formal School Education Higher Education

The Youth who reside in children's home and complete school education and who show academic competence are further supported for university education as according to their aptitude and capacity.

3. Non Formal Academic Education

Distance education, correspondence course etc. at school level and university level education are followed for educating the youth
4. Formal Technical Education

Youth who complete school education form the Youth homes/centres and who have aptitude for formal technical education are supported to do formal courses like ITC (1 Year SCVT) ITI (Two year technical NCVT, Diploma (3 year) etc. in formal institutions.

5. Non Formal Technical Education

Youth who have not completed school education or who have no capacity for further academic education are given non-formal technical training either in Youth centre itself or in other institutions..

6. DB Tech- MORD Project

An effective way of rehabilitating the at risk youth that Youth Centres reach out to is skill training programmes with short duration and immediate placement by DB Tech- MORD Project. 3 months courses with job placement.

7. Life Skill Training

The Youth who are rescued from marginalized and at risk situations are given life skill training as part of preparing and rehabilitating them to mainstream society.
8. Career Mela

It is a gathering of marginalized Youth persons whom the Youth centres reach out to. In this mela the Youth are given opportunities to become aware of different options for future and employment.

9. De-addiction Centres

Many children and Youth persons reached out to by the Youth centers are substance abusers. They are motivated to go through the de-addiction programs that are run by the Youth Centres.

10. Job Placement

The Youth served at the Youth Centre and who are above 18 years are placed in appropriate jobs and followed up by the job placement wing of the Youth centres.
11. Room Placement

The Youth who are already job placed and earning are helped to hire a room/house and live on their own. It is an excellent opportunity for those Youth persons to acquire the skills necessary for living on their own in the future.

12. Brass Band Troupe and Other Performance troupes

Youth Centres set up brass band troupes and other performance troupes to train the children/the Youth in music, dance and other cultural activities.

13. Services to Youth Prisoners

Youth prisoners is an important target group of Youth centres. They reach out to prisons where they house very Youth prisoners (18 years- 24 years) with life orientation, educational and technical skill training programmes.

14. House Building Schemes

The Youth who are totally homeless, who have no family not to go to, who after their training are working, earning and saving are offered supportive schemes to build their houses. Contribution from the beneficiary is an important aspect of this scheme.
15. Marriage Support Schemes

Totally homeless Youth who grow up as beneficiaries of the Youth centre with no family of their own are supported to get married and establish families of their own.

16. Self-employment schemes

The Youth who are trained with skills are supported with self-employment schemes by the Youth centres to make a living.

17. Youth for Youth Clubs

Youth centres bring together Youth from the neighbourhood and from favourable situations (economically sound, good families, good educational institutions) to develop a concern for the less privileged children in the society. Such efforts are called Youth for Youth clubs. Youth for Youth clubs organize programmes where the privileged and the less privileged meet and share friendship and love. It is a way of building up a society with a favourable attitude towards the less privileged to and an opportunity for the marginalized Youth to build up their confidence.

18. Training in Social Work

Students from MSW colleges and other institutions are provided training and placement facilities in the Youth centres. It is n opportunity to support the formation of social work professionals who have genuine concern for the care and protection of children.
Don Bosco India provides skill training because
Don Bosco India attempts to bridge this widening divide between those who have access to opportunities and those who are increasingly being marginalised from the 'new economy' jobs.
While on the one hand there is the ever-growing and constantly changing need of the various sectors in the new market economy for a skilled workforce, on the other there is the very serious problem businesses face in terms of high employee turnover, leading to escalating investments in human resources.
With the right resources, support, and training, people can be enabled to solve their own problems. One expedient way to take them quickly out of poverty is to equip them with means to acquire vocational skills that will at least give them a basic chance to improve their lot.
"Empower Change, Live the joy of true giving." by being a partner with BoscoNet.
BoscoNet, believes in empowering change, especially for the young people who are citizens of tomorrow's world.This website gives a glimpse into the interventions of Don Bosco India to empower people and make them protagonists of change for the better in their own lives. We are persons who believe in being agents of change, in our own way contributing to a better world.
I welcome you to join hands with us, to take forward these initiatives to change our lives and that of others.