Empowering women & family
Age
18 to 55 years
Who they are
Women from slums, Women from marginalised communities in rural areas/ tribal areas
The Scope of our intervention with the women
To skill women with a livelihood that will contribute to her family economical welfare. (Economical empowerment)
Our initiatives towards women empowerment strive to achieve the same on two levels: social mobility and economic development. 'Generating female entrepreneurs' was the motto behind the formation of 10,102 Self Help groups in rural and urban locations across India.
Youth from marginalised community in rural areas
Two lacs women have been provided with livelihood training in agriculture, food processing, tailoring and other trades. These trainings endow them with technical as well as finance and marketing skills, which enable them to contribute to the household income.
Women displaying leadership qualities, have been linked with banks and credit institutions, to aid them in setting up their own economic ventures.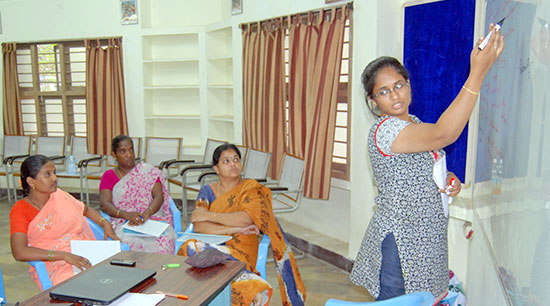 To empower the women socially to stand against all inequalities, injustices and claim her rights as member of the society. (Social empowerment)
Social justice awareness campaigns held in rural districts across India have united 2,50,000 women to fight against gender based violence, exploitation and child marriage. These women are now aware of their property rights, law against physical abuse and legal alimony, in case of divorce.
Women are now trained to be part of local administrative systems and panchayats, and have a say in decisions affecting them.
The process of women self help groups
SHGs what are
There will be 15 to 20 women in a group.
NGos - Capacity building is strengthening women's capacity to determine their own values and priorities and to organise themselves to act on these. This forms the basis of development.
Above all it is about the process of transforming lives and societies. After completion of the three trainings, the participants would have the ability to perform functions, to organise themselves, solve problems, set and achieve objectives in a sustained manner.
Well-experienced resource persons, in the respective field of topic, will be invited to train and equip the beneficiary women members. Workshops will be organised at the villages. Wherever necessary, relevant educative materials will be distributed to the participants.
How do we promote the SHGS
Workshop #1:We will train the women participants on group dynamism, leadership skills and conflict management within the group.
Workshop # 2: The participants will learn finance management, account-keeping, banking processes, opening and maintaining of bank account for the group in workshop # 2. Only five women from each group, who are adequately literate will be selected and trained on these topics.
Workshop # 3 We will cover sources of finance for business (credit linkage), procedure and methods to avail credits, preparing necessary supporting documents for availing credit. This training also will be only for the selected five women members from each group, who are adequately literate to learn the subjects.
Workshop # 4 Women Business Group members will be trained in production of at least two types of products for income-generation, identified based on the marketing potential and the infrastructure available at the location of the respective group.
Trained Women Start Micro-business After the successful completion of workshops 1 to 5, the Women Business Groups will start their respective income-generating activities. Each group will receive financial and technical support at the beginning to start their business. These supports will include: basic tools, raw materials and other incidental expenses.
Marketing Assistance A team of well-trained Marketing Assistants will assist the groups in promoting and marketing their products/services; identify the demand in the market; and advise on necessary changes as per the changing needs of the market. They also assist the group members towards credit linkages.
The 11 Don Bosco Provincial development Offices in India
"Empower Change, Live the joy of true giving." by being a partner with BoscoNet.
BoscoNet, believes in empowering change, especially for the young people who are citizens of tomorrow's world.This website gives a glimpse into the interventions of Don Bosco India to empower people and make them protagonists of change for the better in their own lives. We are persons who believe in being agents of change, in our own way contributing to a better world.
I welcome you to join hands with us, to take forward these initiatives to change our lives and that of others.